NEWS
18 April 2023
Forum Energy Technologies (FET) has secured a contract from Unique Group to supply two light work-class remotely operated vehicles (ROVs) to support its contract with a major Asian Navy. 
Both systems will be installed onboard the navy's new dive support vessels. The Comanche model is one of the most powerful observation-class ROVs of its size, and its lightweight construction allows for rapid set up and deployment.
The Navy selected the vehicle for its high thrust-to-drag ratio, enabling it to operate in strong currents, as well as its high payload which can achieve a minimum of 300kg.
READ FULL ANNOUNCEMENT CLICK HERE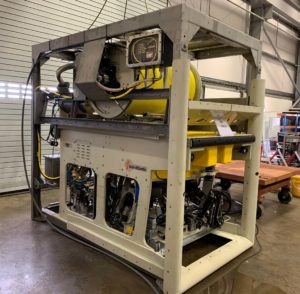 Forum Subsea Vehicles encompasses two of the best known brands in the design and build of remote intervention vehicles, namely Perry and Sub-Atlantic. The vehicles business offers the subsea industry an extensive range of remotely operated vehicles from inspection, survey through to deep water construction.
Perry has a wealth of experience in the design, manufacture, testing / commissioning and operation of submersible vehicles. Since 1974, the company has produced over 450 manned and unmanned systems including rescue submersibles and ROVs with special purpose tooling. The latest Nato submarine, which completed extensive sea trials in 2008, is on constant standby for rescue operation in any part of the world and is specifically packaged for rapid deployment by air transport with all other surface elements of NSRS. The rescue system has a normal operating depth which exceeds the survival depth of many full size submarines
Sub-Atlantic has a long history of supplying ROV systems to the military market, ranging from small observation to light work class vehicles.
These may be deployed on a range of tasks including diver support, seabed survey, mine-countermeasures, port security, intruder detection, under hull search, munitions recovery, submarine rescue and a variety of other survey/search /recovery tasks. Our advanced control system, SubCAN allows for precise auto positioning, preprogrammed manoeuvres and 'hands free' station keeping in situations of strong and changing currents whilst also providing real time monitoring / feedback of sensors and components.
With a proven track record in the defense market, Perry Systems and Sub-Atlantic are proud to be the manufacturers of choice by many of the world's military and naval forces, and they will continue to develop cutting edge technology which will keep them in the forefront of the subsea industry.
Whatever the mission, Forum subsea vehicles have a solution.
22 June 2022
FET completes sea trials of submarine rescue vehicle for Vietnam
Offering increased power compared to previous models, the submarine rescue vehicle features an auxiliary thruster control system that allows for speeds up to 4kt.
Forum Energy Technologies (FET) has completed sea trials of an advanced submarine rescue vehicle (SRV) ahead of its deployment with the Vietnamese Navy.
Trials tested the SRV's ability to perform various operations, including deep dives, navigation, and mating with a target. Nine FET personnel assisted in-country commissioning, and testing took two months to complete.
The sea trials followed a commissioning period, and factory acceptance tests took place at FET's test tank in the UK.
The SRV is divided into two sections: a pilot command module and a rescue chamber. The SRV can rescue 17 people at a time and operate at depths up to 600m. It can attach to submarines at angles over 40 degrees.
Shephard's Defence Insight lists the Vietnamese Navy as operating six Russian-supplied improved Kilo class submarines.
8 June 2022
Forum Energy Technologies delivers work-class ROVs to Oceanica
HOUSTON – Forum Energy Technologies (FET) has delivered two work-class ROVs to Brazilian marine engineering company Oceanica Engenharia e Consultoria Limitada (Oceanica) to support its deepwater intervention operations.
FET says it supplied two Perry XLX-C work-class ROV systems to Oceanica. The systems were manufactured at FET's U.K. facility at Kirkbymoorside, North Yorkshire, and delivered in the first half of 2022.
The systems were supplied with active heave compensated Dynacon launch and recovery systems as well as associated surface power and control installations.
FET says the ROV systems will be utilized by Oceanica to support inspection, repair and maintenance services in Petrobras' oil fields.
February 2021
Forum Builds Advanced Submarine Rescue Vehicle
Please see below LinkedIn post – with video/animation
https://www.linkedin.com/posts/forum-energy-technologies_lr-class-rescue-submarine-activity-6759831926288244736-aTJF
See below links for news coverage:-
7/1/19
Forum Unveils New eROV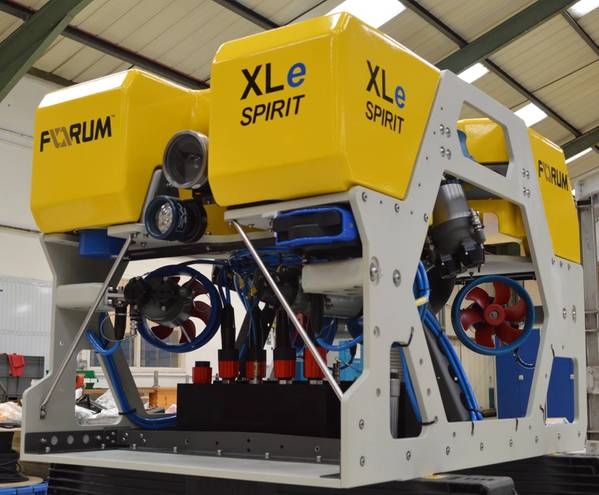 (Photo: Forum Subsea Technologies)
Forum Subsea Technologies' recently launched XLe Spirit is the first observation-class electric remotely operated vehicle (ROV) to utilize Forum's Integrated Control Engine (ICE) to bring greater functionality commonly only found in larger work-class vehicles.
According to the manufacturer, the advanced control electronics pod fitted to all Forum XLe observation class vehicles enables superior connectivity and expansion capabilities. Ethernet interfacing allows for seamless integration with other industry sensors using common IP architecture and ease of remote data transfer.
Kevin Taylor, Forum VP of Subsea, said, "As the subsea market continues to recover from a sustained downturn, cost efficiency is high on the agenda for the industry. Forum recognized the opportunity to apply our leading software to a more compact vehicle to enhance capabilities and meet the changing demands of the sector.
"By utilizing the same system across all vehicles, pilots only have one interface to learn as the skills are transferrable between the smallest observation vehicle and the largest trenchers," he said. "This means training can concentrate on operational tasks opposed to control systems, providing further efficiencies."
The XLe Spirit incorporates a number of features to maximize its stability for use as a sensor platform, including regulated propulsion power, optimized thruster orientation and location, accurate thruster speed control and a wide range of auto-functions for positioning and flying, Forum said.
The XLe Spirit has just completed a 12-week test program at Forum's test tank in Kirkbymoorside, Yorkshire. It will be sent for sea trials in the first quarter of 2019.
15/6/16
Forum unveils third UK offshore test facility
ABERDEEN, UK – Forum Energy Technologies (UK) has opened a deepwater indoor test facility, dedicated to testing subsea tooling, survey sensors, and ROVs.This and the company's calibration laboratory are designed to provide full control, certification and faster turnaround in preparing Forum's rental inventory for hire.The fresh water tank, measuring 5 x 6 x 4.5 m (16.4 x 19.7 x 14.8 ft), is equipped with an overhead 10-ton crane, lighting, cameras, and a viewing platform.Valeport has accredited the laboratory as conforming to traceable procedures for recalibration of the company's conductivity, temperature, density, and sound velocity sensors for installation on current meters, tide gauges, wave recorders, and loggers.In addition, Forum claims to operate one of Europe's largest hyperbaric testing vessels at Moffat, northeast England, measuring 9.7 m (31.8 ft) long and 2.4 m (7.8 ft) in diameter. It is rated to 241 bar (3,495 psi) and 2,400 m (7,874 ft) depth.
To the south in Yorkshire, the company's ROV manufacturing facility has a dedicated system integration test facility. This includes an 11 x 9 x 6-m (36 x 29.5 x 19.7-ft) tank which is capable of fully submerging and flying multiple ROV systems or complete trenchers.
21/01/2014
Forum Energy Technologies Announces Contract for Seven Remotely Operated Vehicles from DOF Subsea AS
Forum Energy Technologies, Inc. FET +0.16% today announced that it has received an order from DOF Subsea AS, Bergen, Norway to supply seven Perry™ XLX 200HP work-class remote operated vehicle (ROV) systems, including five Dynacon Launch and Recovery systems (LARs). The ROV systems will be delivered during the first and second quarters of this year.
"Forum is very pleased to have been awarded this contract from DOF Subsea AS," said Bill Boyle, Forum Subsea Technologies' Senior Vice President. "This is a significant order and a testament to our long standing working relationship with DOF Subsea. We are delighted to supply these Perry™ XLX Heavy Duty work-class ROV systems to DOF Subsea, a leading survey; inspection, maintenance, and repair; and, subsea construction service provider."
Forum Subsea's remote intervention product offerings include an industry leading range of ROVs; tether management systems; LARS; a wide portfolio of ROV tools; simulation and mission management software; and, engineering and project management. Additionally, Forum's remote intervention support is provided via workshops in Asia, Europe, USA and Brazil. "Our office in Rio de Janeiro and workshop facility in Macae are recent additions to Forum's regional network and part of our strategy for growth in Brazil. This expansion will assist DOF and other established and new customers in this key deepwater region," added Boyle.
Forum Energy Technologies is a global oilfield products company, serving the subsea, drilling, completion, production and infrastructure sectors of the oil and natural gas industry.The Company's products include highly engineered capital equipment as well as products that are consumed in the drilling, well construction, production and transportation of oil and natural gas. With over 3,500 employees, Forum is headquartered in Houston, TX with manufacturing and distribution facilities strategically located around the globe.For more information, please visit www.f-e-t.com .
SOURCE: Forum Energy Technologies, Inc.
Forum Energy Technologies, Inc. Investor Contact Mark Traylor, 281.368.1108Vice President, Investor Relations & Planning mark.traylor@f-e-t.com or Media Contact Donna Smith, 281.949.2514Director, Marketing & Communications donna.smith@f-e-t.com