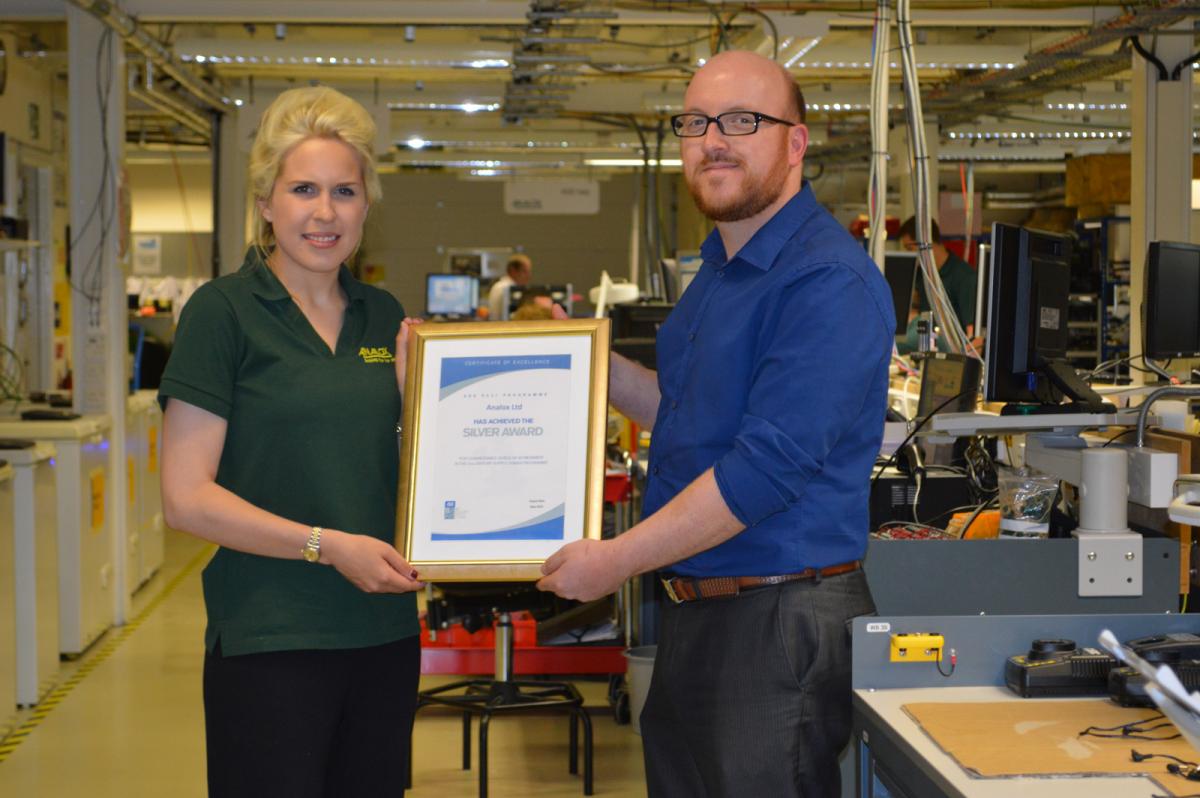 Excellent performance levels have earned Analox Military Systems the SC21 Silver Award, an award until now held by only 26 British companies.
Analox Military Systems (AMS) has been recognised for delivering 99.8% of orders 'right first time', and 97.8% 'on time' to its customer base over the last 12 months. Additionally, high scores in Business Excellence and Manufacturing Excellence assessments, together with a strong commitment to continuous sustainable business improvement, has ensured the company achieved this recognition.
AMS joined the SC21 programme – a military-led change programme to accelerate UK supply chain competitiveness – in December 2010, and has since worked consistently to implement improvements throughout the company. The Silver Award has been given to the company only a year after it earned the SC21 Bronze Award. It will be presented to AMS in July at Farnborough International Airshow 2014 by ADS, the premier trade organisation for the UK Aerospace, Defence, Security and Space industries.
Craig Baker, Quality and HSE Manager at AMS, commented: "To earn the SC21 Silver Award has required significant commitment to improving every area of our business. Everybody in the company has delivered their part of this to enable us to meet these targets, which we are delighted with.
"Our achievements in the SC21 programme are recognised in the UK military sector, and are helping us to win commissions. Overseas clients may be less familiar with the scheme, but appreciate the levels of achievement we have shown, and so our reputation as an exporter continues to grow. Also, the initiatives to achieve this have been implemented throughout the whole Analox group. As a result, they are helping us win business in every commercial sector we serve, as well as with military clients."
Having successfully earned the SC21 Silver Award, AMS has now adjusted the company's objectives, with the aim of securing the SC21 Gold Award within two years. The SC21 Gold Award requires performance levels in excess of 99% 'on time' deliveries, and more than 99.9% of orders 'right first time'. To date, only two British companies have earned the SC21 Gold award. Craig added: "Achieving the high levels of performance that the SC21 Gold Award demands has always been our goal. It would be a huge challenge for any SME, but at AMS we have the foundations in place and everyone, from directors down, is committed to continuing our improvement each day."
Analox Military Systems is a division of Analox Group which is based in Stokesley, North Yorkshire. Analox specialises in the design and manufacture of gas analysers for military and commercial use.