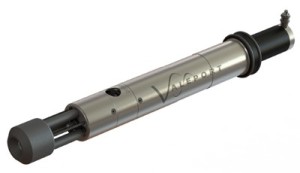 Valeport's new fastCTD Profiler which has already received a very positive reaction, is now available to order for delivery this month.
The fastCTD Profiler is an evolution of Valeport's miniCTD and the new Fast Profiler has been designed to deliver the highest quality CTD casts at rapid drop rates.
A conductivity cell designed for optimum flow-through, a high accuracy, fast response thermistor temperature sensor and a 0.01% pressure sensor synchronously sampling at up to 32Hz deliver the highest quality profiles in a lightweight and robust package.
With and an optional integral Fluorometer based on Valeport's new Hyperion range and an optional Bluetooth communications module, this new fastCTD Profiler offers a unique and versatile solution.
Designed to operate autonomously, this instrument can also be supplied with a traditional SubConn connector for standard RS232/RS485 communication. The fastCTD Profiler is supplied as standard with a deployment frame and Datalog X2 operating software.
For further details please contact kedwards@valeport.co.uk or call +44 (0)1803 869292.