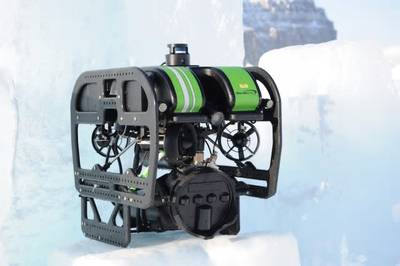 The Kongsberg M3 Sonar system can now be mounted on the Teledyne Seabotix vLBV Observation Class ROV. The M3 Sonar is a 2D multibeam system with sophisticated imaging and profiling capabilities. It provides high-resolution and easy to interpret images by combining the rapid refresh rate of conventional multibeam sonar with image quality comparable to a single-beam sonar.
The new M3 Sonar integration package developed by Teledyne Seabotix enables detection of small objects at distances of more than 150 meters combined with a 120° to 140° field of view, allowing the operator to see the complete underwater picture in real-time. It features multiple modes for multiple applications, GeoTIFF output, multiple true zoom windows, and CHIRP and Doppler modes of operations.
The M3 Sonarincludes two distinct transmitters. The eIQ enhanced image quality transmitter operates at 500 kHz and provides clear images well past 150m range. The VVBT variable vertical beam-width transducer allows the operator to reduce the across-path beam height from 30 degrees to 15 degrees and even 7.5 degrees, to reduce surface returns in images. The VVBT transducer generates point cloud data that integrates with Hypack and Qinsy software.
Teledyne Seabotix's Tool Skid Mount allows the Kongsberg M3 Sonarto be installed in two modes: forward looking or downward bathymetry. The integration package includes flotation and trim weights to adjust trim of the vLBV with the M3 Sonar installed. Testing of the vLBV with the M3 Sonarhas demonstrated high stability while operating at full speed.
The M3 Sonar, Tool Skid Mount, and software can be purchased directly from Teledyne Seabotix.