Fendercare Marine enters strategic partnership with HALO to supply and install innovative marine safety and security barriers globally from bases in the UK, Middle East and Asia Pacific.
Customers will benefit from Fendercare Marine's expert HALO marine barrier installation and maintenance support.
HALO systems offer the only solution available to have met or exceeded the US Navy's performance specifications.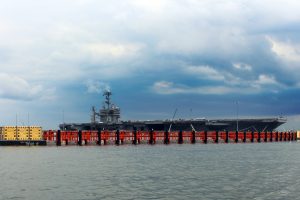 Fendercare Marine, part of James Fisher and Sons plc, has signed an international distribution and preferred supplier agreement with HALO Maritime Defence Systems (HALO), a global leader in waterside security and access control solutions, to provide enhanced marine asset security and protection to its global customer base.
The agreement, effective immediately, allows leading marine equipment supplier Fendercare Marine to supply and install HALO marine barriers and access control systems worldwide. Customers will benefit from increased availability of HALO's advanced solutions as well as Fendercare Marine's expert personnel and equipment support on installation and maintenance projects.
HALO's floating barriers and gates provide essential security to critical assets that are vulnerable to water-borne access. The systems benefit from over ten years of research and development, offering the only solution available to have met or exceeded the US Navy's performance specifications.
The partnership expands Fendercare Marine's offering to the defence and maritime markets and will improve the availability of HALO barriers by leveraging the company's international reach, together with the wider, global supply chain of the James Fisher group.
Eric Johnson, CEO of HALO, said: "Fendercare Marine has an established, international supply chain and a solid reputation for service so we are very happy to come on board with this agreement. With Fendercare Marine's support, HALO will be able to offer our barrier systems to many more marinas, ports, harbours, offshore installations and other high priority assets, which until now have been beyond the reach of our US headquarters."
Brett Ward, senior business development manager at Fendercare Marine, said: "We are very pleased that we've reached an international distribution and supplier agreement with HALO. These systems are – bar none – the best waterside security and safety solutions available anywhere in the world and we are proud to be HALO's distributor and supplier of choice.
"Not only will this increase the availability of HALO's systems, but it will mean that our own expert teams will be able to support installation and maintenance projects with HALO, offering a fully integrated service solution."