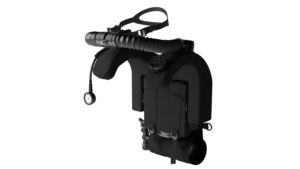 JFD is working with the world's leading navies in the provision of a comprehensive, total Special Forces capability, from rebreathers through to SDVs, as well as the integration with operational platforms, employing a comprehensive and in-depth understanding of the entire mission spectrum to deliver innovative solutions that drive the highest standards in safety and operational efficiency.
This latest release enables Shadow to be a true multi-role system, with the ability to use a back or front-mounted configuration as required by use of a conversion kit. It provides flexibility for dive teams to ensure a safe insertion into the operational field whilst also carrying the equipment they need to carry out their mission.
Shadow/B follows on from the recent launch of Shadow NAV, an advanced combat diver navigation module. The Shadow NAV is fitted to a diver's standard half mask and provides a clear visual display of a combat diver's compass heading, depth, and time even in near-zero visibility conditions. The Shadow NAV represents a leap forward in capability for combat divers by ensuring they have continual visibility of accurate information. Through the Shadow range of innovative diving equipment, JFD is driving the highest standards of safety and capability in military combat diving.
JFD has a well-established history in the development of advanced and innovative systems which significantly improve diver safety. The company pioneers subsea innovation to deliver safer and more economic diving operations for its customers working in deep and often extreme environments.