J
FD is delighted to have been contracted to provide a Digital Diver Communications System to be used on board the Swedish Navy's submarine rescue vessel, HSwMS Belos.
The project involves the supply of JFD's Fathom Systems branded 'Digital Diver Communications System' (DDCS), the preferred choice in the Commercial Diving sector for its superior performance and quality, to be installed in the Wet-Bell Diving System on HSwMS Belos.
The Wet-Bell system is used for diving operations up to 60 metres, where voice communication between the Dive Team and the Dive Supervisor is critical to ensure the highest level of safety, efficient operation and mission success.
Carl Hagman, Technical Authority, JFD Sweden, said:

"It is exciting to secure another contract in which a Fathom Systems product can be used for the Defence Market. Our communications system is state-of-the-art and should provide improved capability to the Swedish Navy dive teams operating on HSwMS Belos.

It is our hope that further JFD and Fathom Systems branded products can support Swedish industry with the needs and requirements of the Swedish Defence Materiel Administration (FMV)."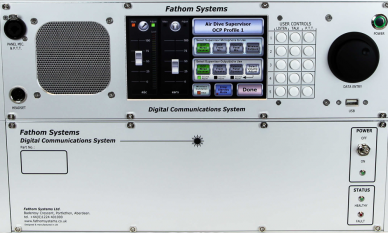 The interconnected system equipment will facilitate an improvement in operational efficiency and includes a number of features tailored to specifically meet with the client's requirements. A further expansion of the system to include wireless capability to the deck and crane area is also anticipated.
The Fathom Systems Digital Diver Communication System has been selected to replace the existing system and includes the following key benefits and assurance:
Fully integrated, high quality, 'best in class' Digital Diver Voice Communications System
Unrivalled audio performance, advanced helium speech unscrambler and digital audio processing
Easy to use HMI touchscreen technology
Optional fibre-optic networking
Modular, expandable system
Interconnected, tested and fully compliant system providing even greater reliability
Industry led, field proven, high-performance, state-of-the-art technology
JFD recently completed a fibre optic video and voice communications network upgrade to the NATO Submarine Rescue System (NSRS). The new system, using the Fathom Systems DDCS product, was specifically engineered to allow the command team on the surface, in particular hyperbaric doctors, to monitor and initially assess rescuees in the rescue chamber from the moment they leave their host submarine.
JFD is an established provider to 80 countries and 33 navies worldwide and supports multiple submarine rescue systems in service globally. At the forefront of the commercial and submarine rescue domain, JFD seeks to deliver the most innovative products available to enhance the safety of those who spend their lives working subsea.