ASI Group have deployed a Saab Seaeye Falcon robot into crocodile-infested waters in East Africa. The crocodiles have been preventing manual inspection of remote inland underwater structures supporting East Africa's power generation.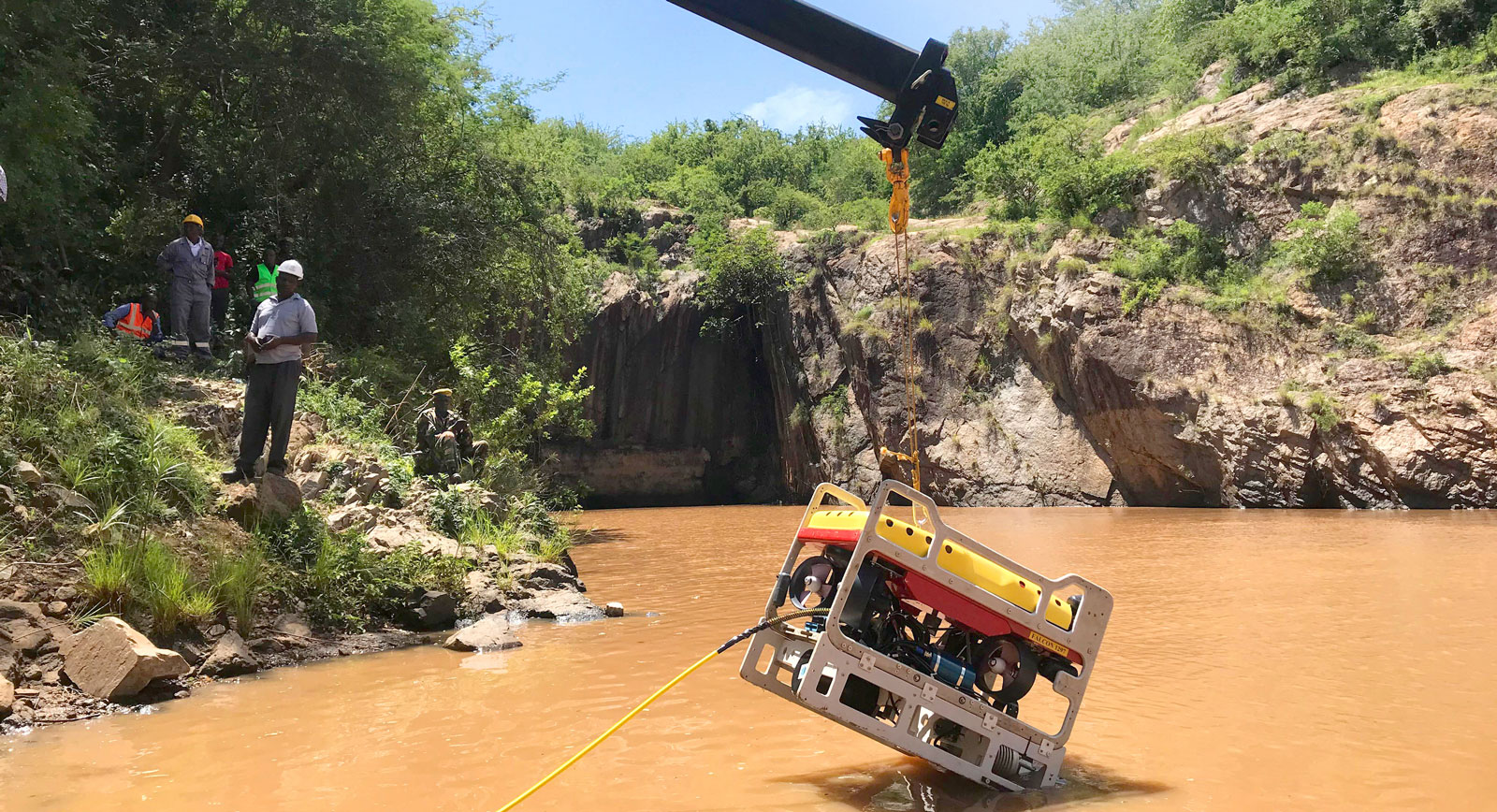 Imaging the smallest anomalies in the murkiest waters.
The curious crocodiles soon lost interest in the Seaeye Falcon as the robot ventured into rivers and reservoirs, as well as inside structures and tunnels, to inspect and survey the wide variety of infrastructure supporting five power stations.
Inspecting assets, critical to the continuous operation of facilities that provide electricity to over 20 million people, was within the scope of work by ASI, a global specialist in inland waters.
It required several inspection operations to assess the many underwater structures including intake screens, stoplogs guides, long tunnels, drop shafts, and stilling basins.
A truck crane was used to remove covers and stoplogs, and to launch the Falcon into a variety of access locations. The crane's long boom kept personnel a safe distance from the crocodiles.
Even in extremely murky waters the smallest anomalies in structures were captured on the Falcon's sonar by ASI operators.
Deep in the jungle
Areas previously considered inaccessible were surveyed, proving the versatility of the multi-beam sonar system provided by ASI.
In one location, the Falcon was lowered over 20 metres by crane to reach a basin surrounded by jungle.
At another location, the entire boat and survey gear were hand-carried 300 metres down rocky terrain to access a stilling basin requiring assessment.
The remote access technology that enables inspection and survey operations in locations that are inaccessible and unsafe for personnel was also used to access water-filled tunnels.
Using the Falcon for tunnel inspection avoids dewatering, which risks the tunnel's infrastructure, including collapse.
Millions depend on data collected
With millions of residents depending on the energy produced by the power stations, a clear understanding of the infrastructures' status is essential to enable proactive scheduling and greater reliability of the assets.
The survey data collected was used by ASI to construct 3D models of the various water control structures. By reviewing and comparing the collected data with known build-data, a clear understanding of the installations' conditions was established.
Repeatable assessment across the locations utilising remote systems and acoustic inspection devices allows detection of anomalies and their change over time.
Considerable savings
ASI reports that considerable cost savings have been achieved by deploying the advanced systems protocol using their Falcon configured with an integrated sonar survey package and inertial navigation system
Although small enough to be easily manhandled, the Falcon, with its iCON™ intelligent control architecture, combined with five powerful thrusters, allows precise manoeuvrability in strong currents and amongst complex structures, whilst loaded with sensors, tooling and systems typically found on much larger robotic vehicles.
The Seaeye Falcon is the world's most popular robot in its class with a reliability record covering over a million hours underwater.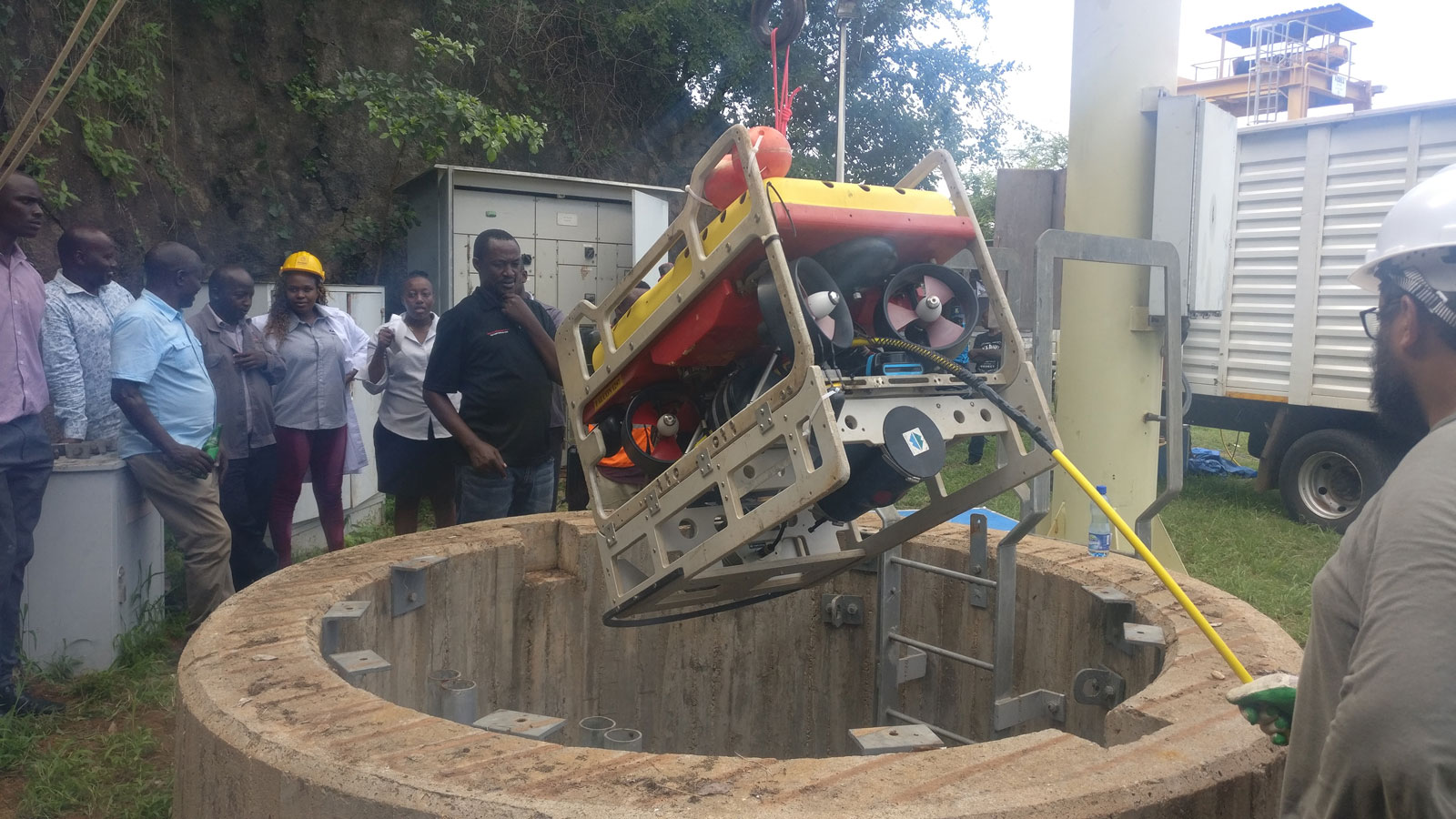 Inspecting water-filled tunnels saves de-watering.
ASI Group Ltd. (ASI) has been an industry leader in underwater inspection, maintenance and repair and biofouling monitoring and control services since 1987.
Saab Seaeye is world leader in electric underwater robotics.
For more information contact: