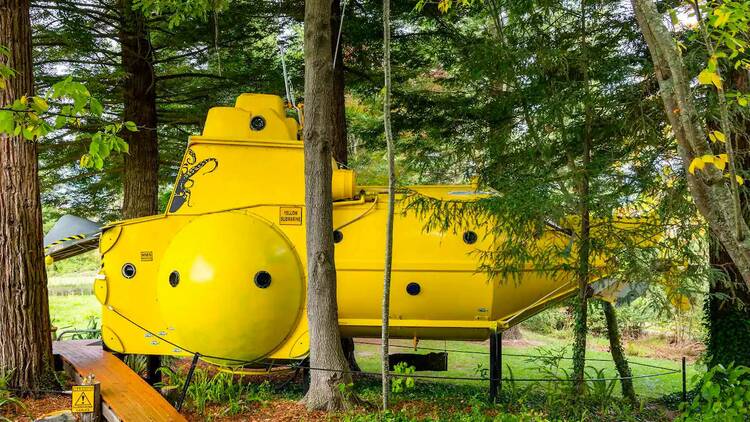 Crafted out of an old grain silo, this rental in New Zealand is an essential for Beatles fans
Airbnb's full of weird and wonderful rentals, from apartments inside Dutch harbour cranes to forest oases in Brazil with their own private waterfalls. And here's another quirky one: a Beatles-themed yellow submarine in New Zealand that you can actually stay in.
The Yellow Submarine was never an actual submarine (it was apparently fashioned out of bits of an old grain silo, spa bath and milking shed) but it very much feels like a proper sub. Entering through a ramp/jetty, there's a bulkhead door, portholes and a sort of galley.
The whole rental is dotted with references to nautical travel and the Beatles, from its steampunk-themed lounge and a mannequin that kinda looks like John Lennon to stripey sailor décor. Plus, it's much bigger than it looks: the Yellow Submarine comfortably houses four guests and still has room for a proper kitchen and bathroom.
Above all, it's just a really, really cool bit of craftwork – whether you're a Beatles fan or not. Here are a few more pics of the place.
Photos: Airbnb
All this is to be found in a quiet rural river valley near the village of Marton on New Zealand's northern island. It's about half an hour's drive from the cities of Palmerston North and Wanganui, and about two hours' drive from Wellington.
Pricing for the Yellow Submarine starts from £104 ($126) per night – you can find out more and book on the official Airbnb listing here.